By Jed Weisberger
Seconds after being introduced by International Working Dog Breeding Association (IWDBA) Board Member Dr. Kelly Mann Thursday Morning, Plenary speaker Dr. Cindy Otto, set the tone for the final day of the virtual 12th annual International Working Dog Conference (IWDC).
It was a case of a dog's nose knows.
"Never deny the incredible power of a dog's nose," said Otto, Director of the Penn Vet Working Dog Center,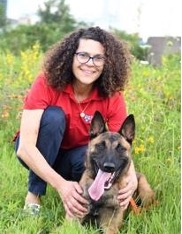 University of Pennsylvania School of Veterinary Medicine. Otto kicked off a day centered around the job detection dogs do daily in helping diagnose disease, search-and-rescue and sniffing out explosives and saving livres.
Otto explained how a dog processes experiences with smell as people do visually, explaining the Penn Vet Center trains working dogs to be "odor discriminate," as different animals – breeds of cows were one example – and different diseases emit different odors to a canine.
Training such dogs to a standard in these areas is what makes them valuable in so many areas partnering with medical personnel, police and government units and government agencies.
"We want our dogs to recognize different odors," Otto told her on-line audience, which included attendees from Zimbabwe, Egypt and the United Arab Emirates for the first rime.. "A woman with ovarian cancer has a different odor than a healthy woman."
As a result, such trained dogs, both coming from the Philadelphia facility and others around the world, are some of the top-of-the-line working dogs.
Otto was followed by IWDBA Board Member Dr. Esther Schalke, Nele ten Hagen and Dr. Alena Heyer, Dr. Nathaniel Hall and Dr. Edgar-Aviles Rosa, all of whom focused on the canine olfactory process.
BREAKOUT SESSIONS PROVED POPULAR
Thursday's break out sessions, one featuring IWDBA Board Member Dr. Eldin Leighton and Jane Russenberger with their third of a series pertaining to the International Working Dog Registry (IWDR), the other with American Kennel Club Director of Government Relations Sheila Goffe and manager of the organization's Patriotic Puppy Program.
Leighton and Russenberger offered additional insight into how IWDR's data can help improve the breeding of working dogs, while Goffe and West explained the importance of the Patriotic Puppy Program, which is aiming to breed working-dog candidate puppies for United States agencies in-country rather than obtaining them from Europe.
WORKING DOGS HELPING DIAGNOSE COVID
Schalke and ten Hagen, who are both connected with the University of Veterinary Medicine in Hannover, Germany, centered on working dogs helping diagnose Covid-19 and other diseases.
Schalke, a founding member of the Centre for Applied Ethology and Veterinary Behavioural Medicine, Lupologic GmbH, now Kynoscience UG, established in 2009, mentioned how such maladies as diabetes, epilepsy, malaria and many others have different odors dogs can detect. She explained a double-blind study resulting in trained dogs detecting Covid by scent.
Ten Hagen, a Ph.D student at The University of Veterinary Medicine, focused on a study in which dogs were able to discriminate between Covid and other viral respiratory infections.
DEVELOPING THE PROPER BEHAVIOR
Heyer, a trainer and veterinarian on the staff of the Penn Vet Working Dog Center, University of Pennsylvania School of Veterinary Medicine, and Dougherty, the organization's K9 Training Law Enforcement Coordinator and a retired police officer, interacted with the audience, delving into a popular topic among trainers of working dogs.
There are times when the dogs can become too aroused, as Dougherty explained:
"A dog who is over threshold is reacting rather than thinking; the dog is in a fight, flight, freeze, or fool-around state. The dog may not be able to listen to you (or even hear due to audio-exclusion). In addition, when a dog is over threshold, the dog cannot learn to behave differently."
Given such is not satisfactory for a working dog to do an assigned task, Heyer and Dougherty the process – through several drills – are trained to decrease arousal and increase motivation at the Philadelphia facility.
SCENT RESEARCH FROM A TEXAS TECH DUO
Hall and Aviles-Rosa, who are colleagues in Texas Tech's Canine Olfaction Lab at the university in Lubbock, Texas, gave the audience a view of some new training methods and a problem that came up.
For Hall, his study is about what concentrations of odors can dogs detect, how do dogs perceive odors and how do dogs perceive odor mixtures. He also asks what the optimal training methods for scent detection dogs are.
That training about "optimal" methods led into Aviles-Rosa's talk. A scent dog failed to detect a home-made explosive, which had a client asking why a certified scent-detect the bomb. This caused Aviles-Rosa's group to back and examine their training. They then made an adjustment on how much explosive material was used in bomb-sniffing training.
NOT THE END OF IWDC 2021
IWDC 2021 finished as a live event Thursday, but the conference, which was recorded and will remain on the event platform until Jan. 7, 2022. Attendees can still log in and view any session you might want to review.
Others who did not attend IWDC 2021 but would like to attend the entire conference at your convenience, can still do so and register at at  https://cvent.me/ZbyEGa or on our Facebook page.
FORUMS COMING
We are adding four Forum channels for IWDBA members' discussion and interaction to the IWDBA website. Look for more news on this soon.