By Jed Weisberger
IWDBA Communications
We know the style of parenting we experienced during our formative years often affects what kind of personality we develop and how successful we are.
Can the same be true for puppies who are candidates to be trained for a life as a Service Assistance dog? IWDBA members Dr. Brenda Kennedy and Dr. Emily Bray, who both work with Canine Companions, believe maternal style has an effect with canines as well.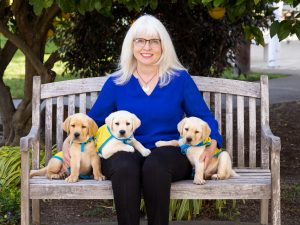 "Research has shown us maternal style can often lead to what type of personality a puppy has, and whether it can be trained to do a certain kind of assistance work," said Kennedy, who spoke on the subject during last fall's Virtual IWDC 2021 and serves as Vice President, Canine Health and Research for Canine Companions, established in 1975 and the largest non-profit provider of service dogs in the United States.
Canine Companions breeds Labrador Retrievers, Golden Retrievers and crosses of the two breeds, through over 3,000 volunteers who, starting at 8 weeks old, train puppies for a year-and-a-half to serve such human-service roles as search and rescue, border and customs control, therapy, medical alert and guide dogs, An important part Canine Companions work is placing dogs, free of charge to enhance independence for children, adults and veterans with disabilities.
These dogs – 7,108 teams have graduated since 1975, according to Canine Companions, assisting people with a wide range of disabilities, including multiple sclerosis, cerebral palsy, spinal-cord injury, stroke, hearing loss, developmental delay and veterans with post-traumatic stress disorder (PTSD).
 "Given this, we have to match the right dog with the right individual to make this work," said Kennedy, who joined Canine Companions as its national veterinarian in 2014 and was promoted to her current position in 2016 – a role that combines her passion for research with her love of veterinary medicine. She oversees the veterinary care of all dogs in the puppy, breeding, training and graduate programs at Canine Companions. In addition, she directs research partnerships that focus on the identification of scientifically based tools to improve the health, longevity and cognitive skills of assistance dogs.
Kennedy holds both undergraduate and graduate degrees in the fields of biochemistry and developmental biology from Northwestern University and MIT. After graduate school, she worked in biotechnology as a research scientist in the field of genomics.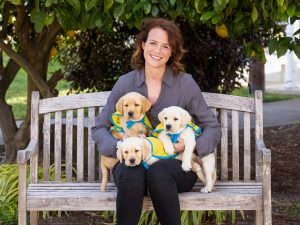 She is significantly helped in this area of cutting-edge canine research by Bray, ​who serves as Canine Companions postdoctoral research associate. She recently received the 2022 Outstanding Postdoctoral Scholar Award from the University of Arizona Postdoctoral Affairs area in February. She is also a postdoc at the Arizona Canine Cognition Center in the School of Anthropology. 
Bray earned her Ph.D at the University of Pennsylvania and her research involves numerous canine and cognitive areas: How do your earliest interactions affect the rest of your life? Why is impulse control so difficult in some contexts but not others? When can we detect warning signs of cognitive decline? What are the characteristics of a successful working dog, and how soon can we tell? 
"Our research keeps giving us clues which puppies will have the right temperament to be effective service dogs," said Bray. "We can see a lot of predictors from factors of how puppies were raised soon after birth."
For more information on Canine Companions, including how to apply for a service dog, the organization's website is https://canine.org. It is headquartered in Santa Rosa, Cal., with six regional training centers.