By Jed Weisberger
IWDBA Communications
Dr. Lucia Lazarowski, an Assistant Research Professor in the College of Veterinary Medicine at Auburn University with the Canine Performance Sciences program, admits she had a love for dogs as a young child in Buenos, Aries, Argentina.
"We didn't have our own dog back then, but my neighbors did and I was fascinated with them," said Lazarowski, whose family moved to North Carolina soon after she discovered her love of dogs. "I still feel the same way and I'm pleased working with them is my career.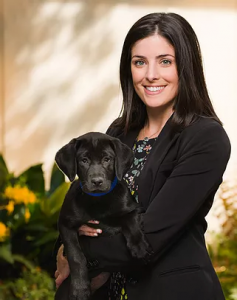 Now Lazarowski, an IWDBA member who has been at the Auburn, Ala., school with a total enrollment of over 30,000 undergraduate and graduate students since 2015, is working with a group that recently received a 5-year, $24 million grant from the Department of Homeland Security's Science and Technology Directorate (S&T) to advance, according to a release, "detection canine sciences and enhance operational threat detection capabilities."
The grant will support Auburn's recently established Detection Science Innovation Technology (DCSITE) program, which, as explained by an Auburn news release, "will define and deploy science-based and science-driven standards of practice through comprehensive research and development efforts; foster technological innovation; sharpen responsiveness to emerging threats; develop and deliver formal educational programs; and provide a centralized hub for expertise and knowledge in the field."
"This was a few years in the making,'' said Lazarowski. "We are very excited about such an opportunity at Auburn, and I am especially excited, personally, to be a part of it."
DCSITE's programmatic goals and objectives, it is explained, are intelligence-driven, in concert with end-user mission priorities, to identify and address current gaps, needs and emerging threats by better leveraging academic knowledge to advance detection canine science and enhance operational threat detection capabilities to preserve national security and public safety.
Auburn and Lazarowski's colleagues were chosen for the grant because the top-rated school's Canine Performance Sciences has 30 years of experience  working to improve on the olfactory abilities of dogs to detect everything from disease to drugs to explosives.
In her talk at the recent virtual IWDC 2021, Lazarowski based her talk on "Multimodel Characterization of Detection Dog Suitability: Combining Behavioral, Cognitive and Neurological Measures for Enhancing Selection" of working dogs. She studies the olfaction, cognition and behavior of detection dogs daily, with emphasis on: Canine cognition, Olfactory learning and memory,  Puppy development and socialization and Working Dog Behavior and welfare.
"A dog's smell is equal to how we as humans see to analyze the environment," said Lazarowski. "We're just learning all the amazing things the dogs can do in working with us."
Lazarowski obtained her Bachelor's in Psychology and Spanish, as well as her Master's in Experimental Psychology at the University of North Carolina at Wilmington, earning her Doctor of Psychology (Ph.D) – Cognitive and Behavioral Sciences at Auburn in 2018.
She has published or co-published dozens of articles pertaining to her studies, including "Effects of learning an increasing number of odors on olfactory learning, memory and generalization in detection dogs,"  Neurobiological, Cognitive and Behavioral Bases of Canine Olfactory Capabilities in Detection"" and "Sensitivity and Selectivity in Canine Detectors" so far in 2002.
This is part of a bi-monthly series that will appear on the IWDBA website and sent to subscribers spotlighting the work of IWDBA members. If you are an IWDBA member and wish to be featured, contact jed.weisberger@iwdba.org